PATENTED & PROPRIETARY




ISO-ELASTIC

®

RESISTANCE
A FITNESS BREAKTHROUGH!
AVAILABLE ONLY WITH THE T2.
FUSING THE POWER OF BODYFIGHT™ FRICTION AND ELASTIC RESISTANCE.

DYNAMIC, ADAPTIVE, SAFE AND EFFECTIVE.

EXPERIENCE EXERCISES NEVER POSSIBLE BEFORE NOW.
This patented, first-of-its-kind compound resistance technology provides one of the safest and most effective fitness training methods ever developed and we are proud to have invented it!​
Simple adjustments to your distance toward or away from the anchor point adjust the elastic resistance. NO MORE BANDS TO CHANGE! This is an unprecedented feature of the T2.​ This breakthrough innovation gives you instant access to other amazing training modalities like Elastic, Inertial Wave, Battle Rope, Plyometrics, Boxing, Rowing, Pilates and more. ​​ISO-ELASTIC® resistance will allow you to discover incredibly dynamic exercises, free-flowing exercise transitions, and freedom of movement never before possible in an exercise device. All with on-the-fly intensity control with no bands, settings or weight to change.
Following are just a few examples of ISO-ELASTIC® exercises:
ISO-ELASTIC® Chest Fly Low
ISO-ELASTIC® Chest Fly Mid
ISO-ELASTIC® Chest Fly High
ISO-ELASTIC® Chest + Back Fly
ISO-ELASTIC® Tricep Extensions
ISO-ELASTIC® Plank Chest Fly Back Pull
ISO-ELASTIC® Chest Fly Plank
ISO-ELASTIC® Plank Kickback
ISO-ELASTIC® Slow Punches
ISO-ELASTIC® Chest Press Slider
ISO-ELASTIC® Rapid Punches
ISO-ELASTIC® Row + Pistol Squat
ISO-ELASTIC® Bicep Curl - Self Anchored
ISO-ELASTIC® Front Shoulder Raise
ISO-ELASTIC® Side Shoulder Raise
ISO-ELASTIC® Rear Shoulder Raise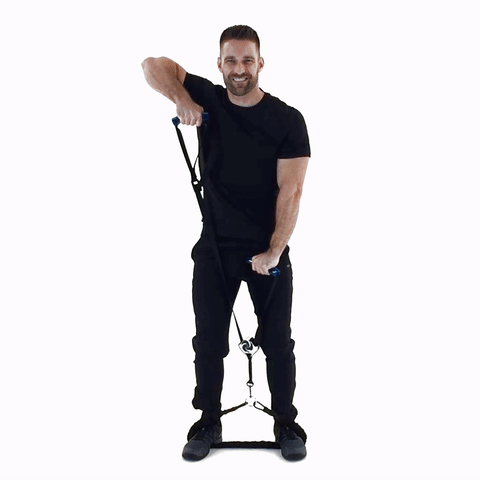 ISO-ELASTIC® Upright Shoulder Row
ISO-ELASTIC® Shoulder Raise + Rear Fly
ISO-ELASTIC® Tricep Extension
ISO-ELASTIC® Scissor Leg Plank
ISO-ELASTIC® Suspended Knee Tucks
ISO-ELASTIC® Lat Pull Downs
ISO-ELASTIC® Ab Crunch + Knee Tuck
ISO-ELASTIC® Leg Scissor Lat Pulldown
ISO-ELASTIC® Ab Crunch Bicep Curl